Made In
America

Free Shipping
on All US Orders

Money-Back Guarantee
Black Wolf created the Silicone Body Scrubber because we kept seeing the loofah vs. wash rag debate everywhere. When in fact both aren't all that hygienic. They tend to collect dead skin cells and other unwanted bacteria in their fibers. This is why we made the Body Scrubber from 100% antibacterial silicone, to keep you clean, free of bacteria and other microscopic stuff.
Dimensions: 15.5 x 14.5 cm
100% Silicone
Circular pattern bristles
Wolf nose handle
1. Apply the soap onto the body scrubber… remember a little goes a long way
2. Rinse lightly to help the soap lather
3. Scrub away
Customer Reviews
Customer Reviews
Write a Review
Ask a Question
Body Scrubber
Very pleased with the product. Works well on my face.
05/13/2021
Adnan M.

United States
Eff loofah this is it
Great product. Good grip, great clean scrub feel. Threw my loofah in the trash after the first use of this scrubber
05/12/2021
Douglas W.

United States
Gets the job done, with a great scent!
The body wash, definitely gets the job done. It rinses clean, and has a great masculine but not overpowering scent. Just wish the was pad produced more lather. The face scrub is great! I've tried several that left the skin red to get the job done. That's not the case here. My forehead, cheekbones and the bridge of my nose are left oil free, deep cleaned with none of that unsightly redness. I can't wait for the line of hair care products to come out, and hope to find a beard balm among them!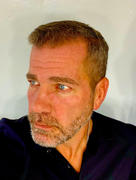 05/10/2021
Aaron R.

United States
THE FUTURE
I've been using the Axe Shower Tool for years now and I decided to make the switch to try something new. It doesn't lather as much as a loofa but it works well with what it does, it rinses clean, and I know it'll last!
05/10/2021
Chris M.

United States
Body scrubber
The first tiime I ordered it ,my package got lost, but after contacting them they sent out a another and it arrived quickly. Its a great scrubber, been looking for something like it and while there cheaper scrubbers out there they aren't as cool looking obviously! Gonna try some of there stuff when I run out of what I got
05/07/2021
Matthew K.

United States
Great Product
This has been a game changer. Quick and easy to use and rinse after use
05/06/2021
Patrick D.

United States
Leaves a bit to be desired
Looks good and feels good. Just wish it was able to suction cup to the shower wall...
05/06/2021
Raymond O.

United States
Body Scrubber
Skin feels invigorated and alive
05/05/2021
Alfredo L.

United States
05/04/2021
Maxwell R.

United States
I like it
Works well with the washes and exfoliating scrubs. Not so much for other kinds of soap, like bar soaps.
FREE

SHIPPING ON ALL US ORDERS 

30-DAY

Money-Back Guarantee

100%

Safe & Secure Checkout