Made In
America

Free Shipping
on All US Orders

Money-Back Guarantee
Eliminates the bacteria that cause razor bumps with a special coconut blend
Unclogs pores and reduce dead skin cells blocking hair growth
Soothes irritated skin with cucumber extract
Helps prevent acne breakouts
Slows the natural aging process
Safe for daily use and won't dry out your skin
Subtle blue sage and citrus scent
Sulfate, paraben, and cruelty-free
1.7 fl oz/50mL
Apply a nickel-sized amount and cover your skin with a thin layer. Do not rinse. Use directly after your shave.
Here is the complete list of ingredients that give the product it's look, effectiveness, and other added benefits:
Water (Aqua), Alcohol Denat., Glycerin, Propylene Glycol, Glyceryl Stearate, Salicylic Acid, Caprylic/Capric Triglyceride, Isopropyl Palmitate, Sodium Hydroxide, Propylene Glycol Laurate, Polysorbate 20, Carbomer, Cellulose Gum, Fragrance (Parfum), Cucumis Sativus Fruit Extract, Disodium EDTA.
How do I know if I have razor bumps?
If you get a bumpy rash on your neck or face after you shave or if you avoid shaving because of pain, you probably have razor bumps. They are no good.
Why should I use this razor bump cream?
Our soothing razor bump cream is the only bump treatment with Lykos AF which is an antimicrobial that fights the bacteria that causes your bumps. It contains cucumber extract, which immediately helps to soothe the bumps you already have and salicylic acid which helps prevent the bumps you don't have yet.
How do I use this razor bump cream?
Apply to freshly washed and towel-dried skin after shaving and before you moisturize. Use daily for best results.
Customer Reviews
Customer Reviews
Write a Review
Ask a Question
04/12/2021
Sean M.

United States
04/08/2021
Bill B.

United States
Nice
I do enjoy using Black Wolf products; however, I do not get the results that I expected. As an older man, I would like to see products for dark spots.
03/29/2021
Kyle S.

United States
Great Product
I was skeptical at first, but after consistently using all the black wolf products I'm sold. My skin looks and feels much better. Will definitely purchase again!
03/09/2021
Harold H.

United States
Best Skincare Line on the Market
I'm just going to speak about the skincare line as a whole even the bump cream.  Black Wolf Nation as a whole has been the best product line for me.  The Bump Cream cleared up my razor bumps on my head.  I shave my head about once a week, and since using the bump cream, the bumps have cleared up.  No razor bumps!  As for the skincare line as a whole, I couldn't ask for any other products other than BWN!!   Only been using the Blackout Bundle for a week, and I am already seeing results!  People from work and church have noticed the results!   I am all in for BWN, and I can't wait for more products to be released.  I am hoping for shampoo, conditioner, and a shaving cream!  Thanks BWN for being my skincare line resource and being local! Palm Beach County has finally got something right other than my church!  Shop local and keep local!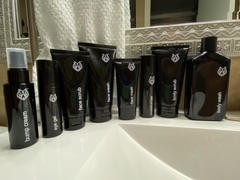 01/05/2021
Toney C.

United States
Effective.
The facial wash is refreshing, it is also efficient. It has helped my facial hair grow through my pores much smoother, I used to be in pain when my hair grew back through my face but now that pain has significantly subsided. The facial bump cream has also been highly effective. It hasn't completely stopped every hair bump but it has reduced major bumps so far and my skin has been much smoother PreShave and PostShave. I'm pleased. Im appeased. I'm agreeable. Wondebar! Thanx Kindly! Kudos! Won
12/08/2020
Patrick B.

United States
Works Well
I get razor bumps so bad to the point that I could only use an electric razor, and even then I would get some. This cream works really well, very happy. My skin is smooth and no bumps every time now :)
11/16/2020
amanda r.

United States
Bump cream
I've got hidradenitist suppurativa and I use the bump cream and body wash and it has helped me. I recommend this product and will be ordering more
11/09/2020
Gabriel K.

United States
10/07/2020
Matt L.

United States
This stuff is great...
Smells wonderful, and really works - I put it on right after shaving and it feels soothing to my skin. My razor burn has significantly decreased since using this.
09/02/2020
Rafael V.

United States
FREE

SHIPPING ON ALL US ORDERS 

30-DAY

Money-Back Guarantee

100%

Safe & Secure Checkout