Made In
America

Free Shipping
on orders $30+

Money-Back Guarantee
All products use bamboo charcoal powder
Designed to bind to oils and toxins and then wash them away
Great for oily skin, the summer season, and acne-prone skin
Activated Charcoal Face Wash (For Oily Skin)
Lather a quarter-sized amount in hands and gently massage onto wet skin. Rinse clean with warm water. Use twice daily.
Detoxifying Charcoal Peel-off Mask
Apply to clean, dry skin. Peel off after 15 minutes. Use weekly.
Activated Charcoal Body
Wash Rinse your body. Work into a lather and rinse. Use daily.
Face Wash - salicylic acid and activated charcoal block breakouts
Face Mask - detoxifying charcoal dissolves and lifts away blackheads and toxins
Body Wash - fight back-acne and deep clean your body to feel fresh all day
Here is the complete list of ingredients that give the product it's look, feel, and other added benefits:
FACE WASH
Water (Aqua), Cocamidopropyl Betaine, Lauryl Glucoside, PEG-8, Sodium Chloride, Polysorbate 80, Salicyl- ic Acid, Propylene Glycol, Charcoal Powder, Cucumis Sativus (Cucumber) Fruit Extract, Glycerin, Disodium EDTA, Fragrance, Propylene Glycol Laurate, Sodium Laureth Sulfate, Sodium Hydroxide Glycol Distearate, Cocamide MEA, Laureth-10.
FACE MASK
Aqua (Water), Polyvinyl Alcohol, Alcohol Denat., Glycerin, Charcoal Powder, Peg-12 Dimethicone, Glycereth-26, Isododecane, Dimethicone Crosspolymer-3, Laureth-4, Ceteth-10, Niacinamide, Squalane, Marrubium Vulgare Meristem Cell Culture, Xanthan Gum, Xylitylglucoside, Anhydroxylitol, Xylitol, Lepidium Sativum Sprout Extract, Phenoxyethanol, Ethylhexylglycerin, Sodium Acetate, Methyl Acetate, Methanol, Methyl Alcohol, t-Butyl Alcohol, Denatonium Benzoate, Glucose, Lecithin, Citric Acid.
BODY WASH
Water, Sodium Laureth Sulfate, Cocamidopropyl Betaine, Lauryl Glucoside, PEG8, Salicylic Acid, Polysorbate 80, Fragrance, Propylene Glycol Charcoal Powder, Cucumis Sativus Fruit Extract, Glycerin, Glycol Distearate, Sodium Hydroxide, Cocamide MEA, Laureth-10, Disodium EDTA, Propylene Glycol Laurate.
Customer Reviews
Customer Reviews
Write a Review
Ask a Question
08/09/2020
Amber L.
United States
Happy
My brother loves this and he is very happy and it is helping him. Thank you
08/04/2020
Darrin Y.
United States
WOW
GREAT product! The face wash is amazing and I was result within a few days. The body was is a great product. I have used the face mask once thus far. It's a good product, but I've not used it enough yet to say it is amazing. However, If this product continues. I will continue to order, and share the news of these items, with friend's and across my social media
08/03/2020
Emily V.
United States
Charcoal chick 4 ever!
I absolutely love the dramatic and grown up scent of charcoal and once i saw my skin reacts great to it too, i had to subscribe to BW. I use to just steal my guy's razors and such but since there's no guy to steal from, i took matters into my own lady hands and joined this incredible wolfpack! Thank you for existing! You've done for me what years of proactive never could; given me confidence and peace of mind.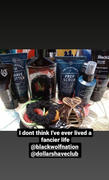 07/14/2020
Mikaela M.
United States
Sweet
I bought the body wash a few months ago and even as a girl, I loved it. It does smell like male product but I love it so much I bought the body wash again with face wash and the face mask. It makes my skin feel hydrated and clean, shipping is fast and has no problems.
07/09/2020
Jason M.
United States
Amazing product one of the best
I'm seeing less and less purples each week the body wash has amazing smell to it and does what it says it's going to do the face wash does not damage my beard and The face mask helps clean out my pores I would highly recommend this to other people to use amazing product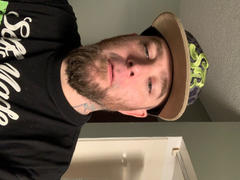 07/02/2020
Aaron G.
United States
Loved this stuff but now it's causing my skin issues
Was amazing my skin was clearing up. Really enjoyed the smell and all the Health benefits but for some odd reason I had a bad reaction have to stop using it now.
07/02/2020
alyssa s.
United States
Works wonders!
I've been looking for a backwash to help clear up my acne and withing a week it was cleared up! I can now wear swimsuits without feeling embarrassed of my back
06/23/2020
Thomas M.
United States
Overall it's the best
Since I began using Blackwolf products my skin has never been cleaner and it doesn't dry it out. I am a chef who stands on his feet for 12 to 15 hours a day, by the time I get home it's time to shower, the body wash is amazing, moisturizing and a fantastic clean feeling, I just wish you would develop a shampoo and conditioner, my shower would be complete
06/23/2020
Jason D.
United States
Great products!
Would definitely recommend and buy more! Makes my skin feel great. My first experience with a face mask and it's not a disappointment.
06/22/2020
Alex S.
United States
Amazing
Skin feels amazing after apply the product and it smells even better. Skin has gotten a lot smoother, softer and a lot less breaking out
FREE

Shipping Over $30

30-DAY

Money-Back Guarantee

100%

Safe & Secure Checkout