Made In
America

Ships From
The USA

Money-Back Guarantee
All products use bamboo charcoal powder
Designed to bind to oils and toxins and then wash them away
Great for oily skin, the summer season, and acne-prone skin
Activated Charcoal Face Wash (For Oily Skin)
Lather a quarter-sized amount in hands and gently massage onto wet skin. Rinse clean with warm water. Use twice daily.
Detoxifying Charcoal Peel-off Mask
Apply to clean, dry skin. Peel off after 15 minutes. Use weekly.
Activated Charcoal Body
Wash Rinse your body. Work into a lather and rinse. Use daily.
Face Wash - salicylic acid and activated charcoal block breakouts
Face Mask - detoxifying charcoal dissolves and lifts away blackheads and toxins
Body Wash - fight back-acne and deep clean your body to feel fresh all day
Here is the complete list of ingredients that give the product it's look, feel, and other added benefits:
FACE WASH
Water (Aqua), Cocamidopropyl Betaine, Lauryl Glucoside, PEG-8, Sodium Chloride, Polysorbate 80, Salicyl- ic Acid, Propylene Glycol, Charcoal Powder, Cucumis Sativus (Cucumber) Fruit Extract, Glycerin, Disodium EDTA, Fragrance, Propylene Glycol Laurate, Sodium Laureth Sulfate, Sodium Hydroxide Glycol Distearate, Cocamide MEA, Laureth-10.
FACE MASK
Aqua (Water), Polyvinyl Alcohol, Alcohol Denat., Glycerin, Charcoal Powder, Peg-12 Dimethicone, Glycereth-26, Isododecane, Dimethicone Crosspolymer-3, Laureth-4, Ceteth-10, Niacinamide, Squalane, Marrubium Vulgare Meristem Cell Culture, Xanthan Gum, Xylitylglucoside, Anhydroxylitol, Xylitol, Lepidium Sativum Sprout Extract, Phenoxyethanol, Ethylhexylglycerin, Sodium Acetate, Methyl Acetate, Methanol, Methyl Alcohol, t-Butyl Alcohol, Denatonium Benzoate, Glucose, Lecithin, Citric Acid.
BODY WASH
Water, Sodium Laureth Sulfate, Cocamidopropyl Betaine, Lauryl Glucoside, PEG8, Salicylic Acid, Polysorbate 80, Fragrance, Propylene Glycol Charcoal Powder, Cucumis Sativus Fruit Extract, Glycerin, Glycol Distearate, Sodium Hydroxide, Cocamide MEA, Laureth-10, Disodium EDTA, Propylene Glycol Laurate.
Customer Reviews
Customer Reviews
Write a Review
Ask a Question
06/07/2021
Jon M.

United States
Works well!
I have noticed a difference in my skin since using the BlackWolf products. The body wash works well. I use a washcloth (I know old school) and it works. So far the face wash for oily skin has been keeping my nose looking fresh.
05/14/2021
Mont T.

United States
Missing subscription
Have not received my regular subscription yet???
03/01/2021
John P.

United States
Great great great!
I have used each of the products and loved all three. I will definitely be purchasing again sometime.
10/14/2020
Jaime Z.

United States
Greatness
Very satisfied don't know if this is good or this was just how bad my skin was noticeable difference immediately would like it to be a little stronger on the scent but happy happy
10/06/2020
Roshonda B.

United States
Still waiting on results
bought this for my teenage son for back, chest and arm acne, it seems to make him break out more but not sure if this is normal or not. I used the face mask on myself and it makes my skin too dry. love the smell and the squeaky clean feel it made my face feel. probably needed the one for dry skin & not oily skin.
10/05/2020
frank p.

United States
Works and smells great!
Body wash smells so good and makes my skin feel super fresh. Face wash is already cleaning my skin up and the face mask is vastly helping remove my blackheads 
10/02/2020
Angela T.

United States
Love this stuff
These products are great, my husband and I both use them. They work awesome and smell amazing. Thanks BlackWolf!
08/09/2020
Amber L.

United States
Happy
My brother loves this and he is very happy and it is helping him. Thank you
08/04/2020
Darrin Y.

United States
WOW
GREAT product! The face wash is amazing and I was result within a few days. The body was is a great product. I have used the face mask once thus far. It's a good product, but I've not used it enough yet to say it is amazing. However, If this product continues. I will continue to order, and share the news of these items, with friend's and across my social media
08/03/2020
Emily V.

United States
Charcoal chick 4 ever!
I absolutely love the dramatic and grown up scent of charcoal and once i saw my skin reacts great to it too, i had to subscribe to BW. I use to just steal my guy's razors and such but since there's no guy to steal from, i took matters into my own lady hands and joined this incredible wolfpack! Thank you for existing! You've done for me what years of proactive never could; given me confidence and peace of mind.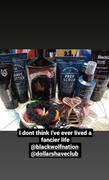 FREE GIFT

ON ALL US ORDERS OVER $60

30-DAY

Money-Back Guarantee

100%

Safe & Secure Checkout